The corian solid surface bath tub, originated in Italy, is called a cast bathtub or a handmade bathtub due to its manufacturing process. It is the new favorite of the bathroom industry, and it is another luxury bathroom after the steam room.
The corian solid surface bath tub is made of environmentally-friendly transparent resin, glass beads, bauxite powder and other materials after mixing, casting, splicing, and careful polishing. At the same time, different colors can be deployed during the production process, so that it can get different beautiful appearances.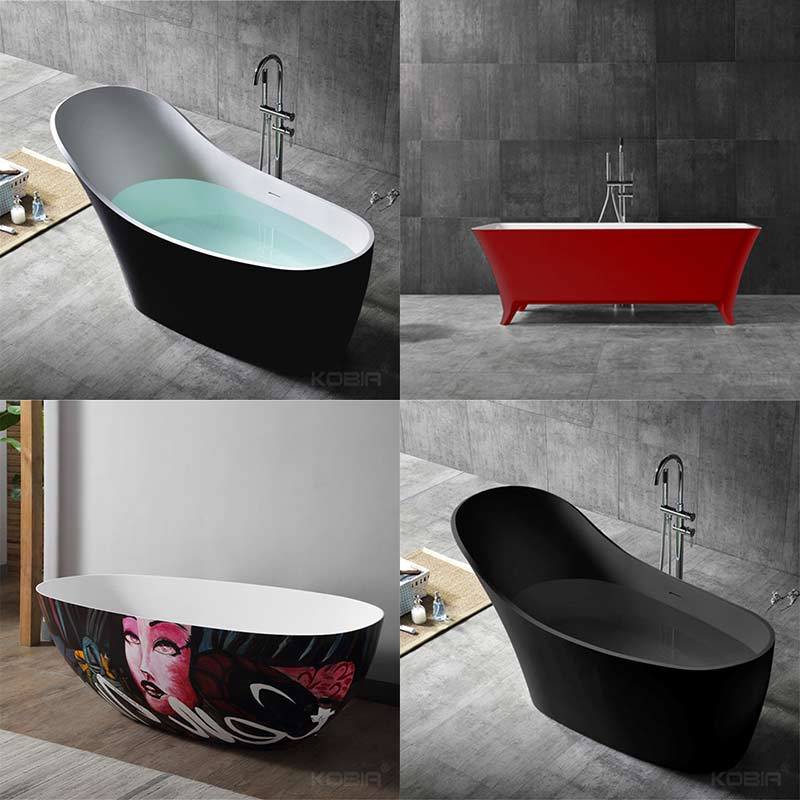 Product appearance is simple, elegant and generous, high surface finish, low heat transfer coefficient, good insulation performance, high strength, good toughness, scratch resistance, strong abrasion resistance, anti-mildew and antibacterial, high temperature resistance, not easy to stain, easy to clean, not aging , Easy to repair, the weight is only 65% ​​of the ordinary corian solid surface bath tub.
The wall thickness of the corian solid surface bath tub is generally about 2.5CM, and the arc is about 2MM thinner.
The surface of the corian solid surface bath tub is as smooth as porcelain, and the weight is about 150 kg, so special care is taken when packaging. The first is to use thick foam to protect the edge of the tub; then two layers of transparent film are wrapped on the corian solid surface bath tub body; then the steel tape is used to tie it; then the carton is used for external sealing, and finally the wooden strip is used for strong packaging. Don't worry about it anymore.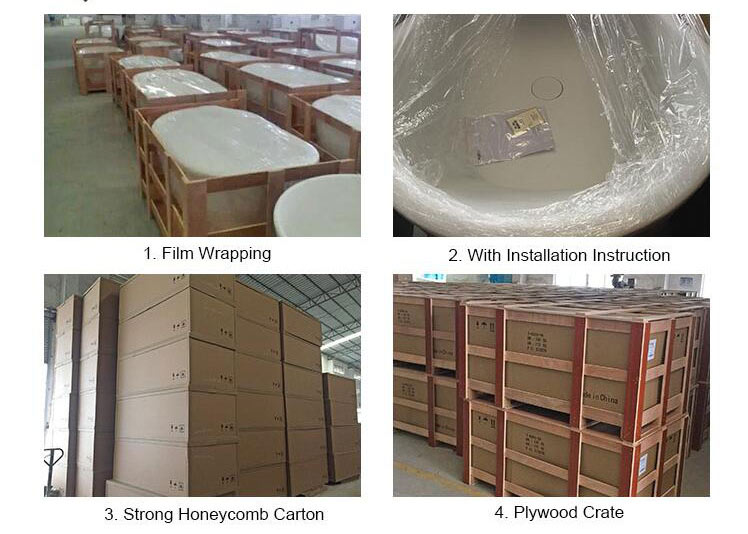 The development direction of bathtubs in the world is towards simplicity and integration. In the early 1990s, glass fiber reinforced plastic bathtubs were the simplest single bathutb, during this time, acrylic and cast iron bathtub appeared. Cast iron bathutb are difficult to process, cumbersome, and do not keep heat. Acrylic bathutb is easy to process, lightweight, and heat-preserving, so it is popular all over the world. In order to improve competitiveness in the industry, companies strive to change the appearance of products and promote the company's Development, by about 2003, minimalism entered the market, thus forming a branch of bathtubs, classical and modern bathtubs. Acrylic bathtubs have reached the peak after ten years of development. It is difficult to make major breakthroughs, and acrylic bathtubs have The biggest disadvantage is that more than 95% of the cylinder body and the skirt should be separated, which destroys the integrity of the bathtub and the smoothness of the lines, and it feels imperfect. Therefore, the emergence of the corian solid surface bath tub has overcome many shortcomings of acrylic and cast iron bathtub, and conforms to the trend and development direction of the times, it will replace acrylic and cast iron bathtub to become fashionable high-end bathtubs