Low carbon and energy saving is the development trend of the sanitary industry. Energy conservation and environment protection has been the constant theme of sanitary ware industry. Especially in the context of energy saving and emission reduction, the demand for energy saving and environmental protection products is more and more intense. For consumers of bathroom hardware, a lot of people no longer take price as a priority purchase consideration factors, such as product style, quality, environmental protection and so on, have become the focus of purchase.
Made from solid brass, this KOBIA contemporary fashion design thermostatic concealed shower faucet set feature matt gun metal finish, and an easy to control both the flow and temperature of the water, which can play the role of energy saving and environmental protection.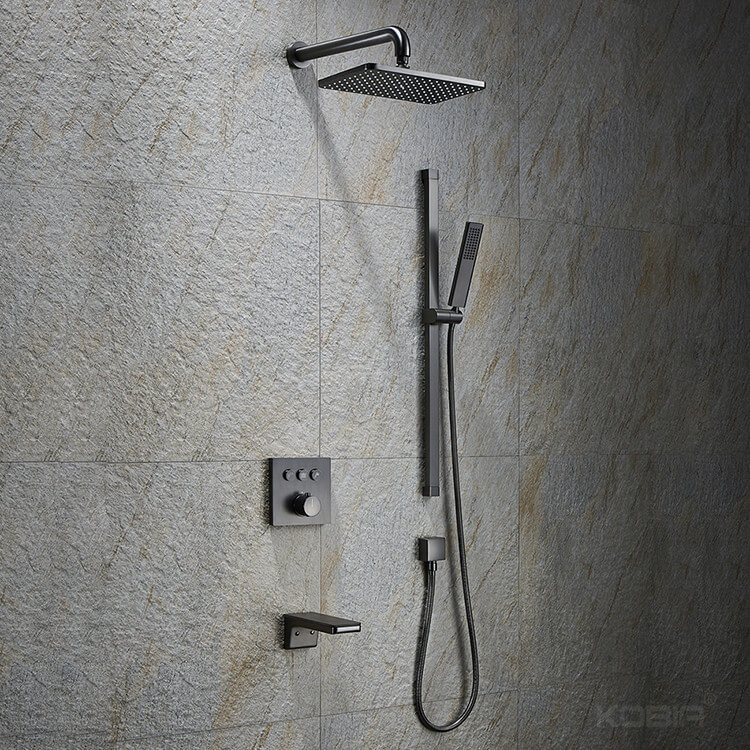 1.  The shower set takes a modern twist on a modern design, manufactured with strong brass bodies, surface nano anti-fingerprint treatment to prevent dirty.
2. With automatic thermostatic function, designed according to the most comfortable temperature of human body-38 ℃.
3. Newest matt gun metal color, chrome, rose gold, matt black is available.
4. The latest three functions push-button conversion, adds a touch of luxury to your new bathroom.
The thermostatic concealed shower faucet set manufactured with the industry's finest materials and components, embodies the beautifully understated elements of minimalist design. Designed for easy installation and convenient daily use.