KOBIA Oval Freestanding Bathtub
This KOBIA design is one of the best rated oval freestanding bathtub on the market that delivers a delightful performance considering its price, and also because this brand is constructed from reinforced lightweight acyclic and fiberglass materials. Based on these oval freestanding bathtub reviews, many good opinions have been formed from multitudes of reviewers to prove the trustworthiness of this product.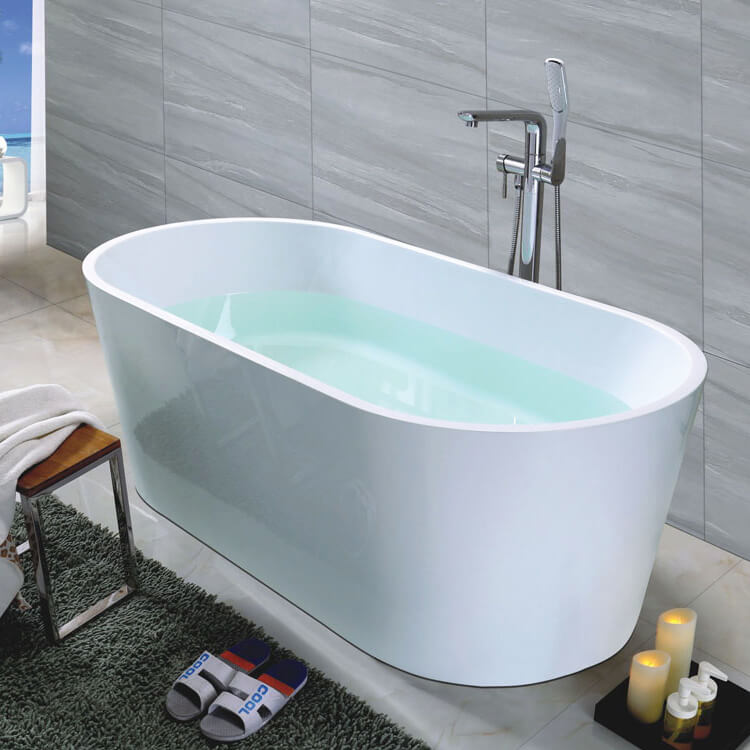 When both materials combine, the high-gloss finish is highly resistant to stains owing to its innate porous porcelain. Acrylic materials tend to scratch more easily but can easily be repaired; however, the reinforced fiberglass retains superior heat retention and delivers added strength.
These oval freestanding bathtub are exceptionally light-weight providing greater maneuverability and can fit anywhere in the bathroom. The oval freestanding bathtub itself has predrilled holes to integrate a faucet. The benefits of owning an KOBIA oval freestanding bathtub are limitless to householders or/builders. The simple fact is the floor wall mounted faucet can easily be installed or the tub can be used without a hand shower, with the added benefit of a drain and overflow system.
A leveled freestanding tub that's much deeper than standard tubs for maximum immersion
Warm to the stroke and more relaxing than old-fashioned enamel/steel tubs
Acrylic composition for strength and simplicity of usage and setting up
A modified base for precise leveling and rigidity
High-quality assured – two-year limited warranty