Exercise hot tub pool combo VS ordinary villa pool
1.Convenient engineering
Compared with traditional swimming pools, exercise hot tub pool combo can be used immediately, including complete tub body, water circulation, filtration, disinfection, constant temperature and water flow control systems. No construction requirement. It can be used After deciding the location and install the escalator; its engineering volume is far Much smaller than the average villa pool.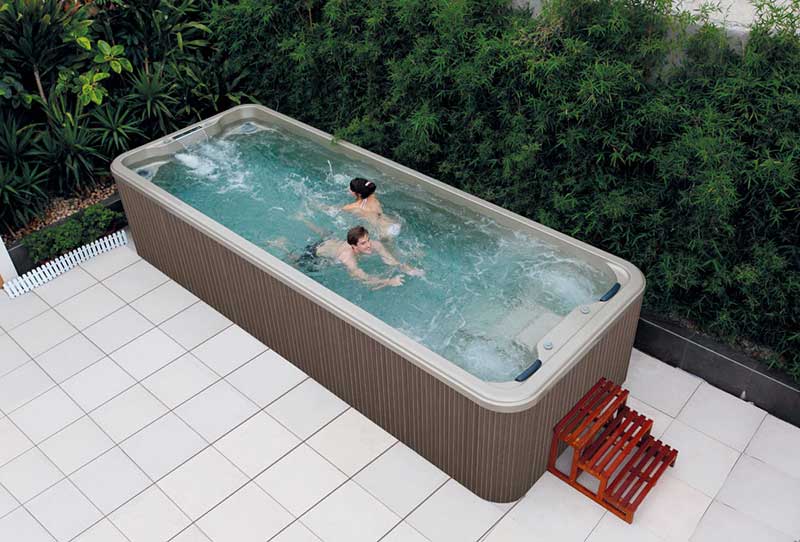 2. Endless swimming
The exercise hot tub pool combo that adopts countercurrent swimming method allows you to swim as far as you want without being restricted by length. You can choose to swim leisurely or challenge your limits.
3. Advanced functions
Integrating a four-season constant temperature swimming pool and a hydrotherapy spa pool, the exercise hot tub pool combo can protect you from the influence of seasonal climate changes, allowing you to swim at any time; when the water temperature is heated to 34~40℃, it can also be used as a hydrotherapy spa pool, you can make full use of the characteristics of temperature and buoyancy to carry out whole-body hyperthermia, plus exercise to achieve the effect of maintenance and fitness.
4. More economical
Compared with traditional villa swimming pools, the cost of constructing exercise hot tub pool combo at one time is more economical, and the full use of water circulation and the small footprint, the daily water consumption is only 11 tons, which is about 1/10~1/5 of the general swimming pool. Greatly reduce the cost of daily use and maintenance.
5. Easy to use
The exercise hot tub pool combo integrates the full set of equipment required, without the need to build a computer room and add equipment room. Most functions can be easily operated on the control panel, simple and highly automated, with little maintenance. Users can also move the location of the pool at will as needed to make the villa layout more diversified, which is unmatched by traditional pools.
The exercise hot tub pool combo has professional configuration
1. Quartz sand filter
The exercise hot tub pool combo is equipped with a quartz sand filter, which can effectively remove magazines, floats, hair and body oils in the water, ensuring the purity and cleanliness of the water. Quartz sand filter is a kind of filtering equipment commonly used in swimming pool water purification system. It has the characteristics of strong sewage interception, long service life, good pressure resistance, stable chemical performance, and no deterioration of water quality. It is widely used in International competition swiming pool water parks and sauna spa pools. The high-quality filter valve and components ensure the best and reliable water filtration function while minimizing the daily maintenance costs of consumers.
2. Pool surface skimmer
The exercise hot tub pool surface skimmer can block the leaves and larger particles in the pool water from polluting debris and prevent them from entering the quartz sand filter, affecting the efficiency and effectiveness of water filtration.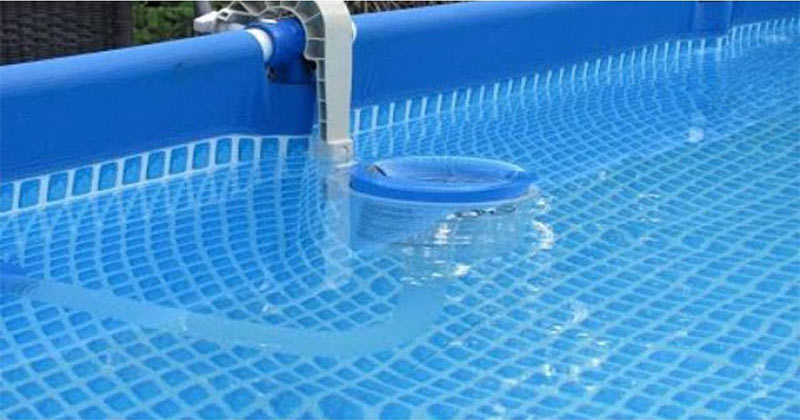 3. Ozone generator
The ozone generator can produce O3 needed for water disinfection, which can effectively eliminate microorganisms, algae, bacteria, viruses and other impurities in the water, making your water more safe and sanitary.
4. Ultraviolet sterilizer
The ultraviolet sterilizer adopts specially designed high-efficiency, high-intensity and long-life ultraviolet UV-C light to irradiate the flowing water to destroy bacteria and viruses, so as to achieve water disinfection and purification.

If you love swimming, you don't need much space to build an exercise hot tub pool combo in your own courtyard. You can enjoy the unlimited fun of free swimming, at the same time create a beautiful space full of laughter, health and vitality for yourself and your family.