More and more people prefer to choose high-end metal bathroom sinks to match the bathroom vanity or single free standing wash sinks.
There are always friends ask me what basins they should choose for their projects or houses which can make the space look high-end and luxurious. I firstly recommend Kobia high-end stainless steel art basin or free standing basin.
You may doubt that it is too common on stainless steel material color. No need to worry about this . Nowadays there are many color options on metal surface treatment through PVD new technology. Currently there are such popular colors : copper PVD , gold PVD , Black Metal PVD, Black Metal Brushed PVD , Copper Brushed PVD , Brass PVD , Nickel PVD, Warm Bronze Brushed PVD , Brass Brushed PVD , Warm Bronze PVD .
Also the common metal finish like Chrome , Antique Brass , Aged Bronze, Black , Matte black ....... So many optional colors will make your bathroom space more possibilities to meet your imagination on designs. And whatever bathroom furniture you choose there are suitable stainless steel basin can match it on styles on colors.
So far We are proud to start and insist on manufacturing high-end metal bathroom sinks and freestanding wash basins these five years. And we have provided these Exquisite and beautiful artwork style sinks to star hotels and villas for our clients. Now some markets have become our main markets and it is expanding to the neighbour markets and effects more and more consumers. We have clients or sole distributors in Thailand, India, Greece, Saudi Arab, Israel, West Europe, USA....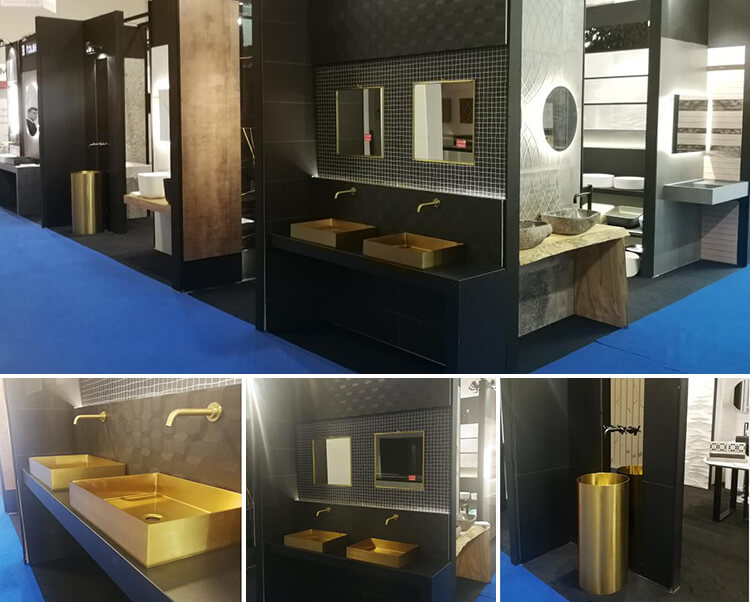 Why it becomes more and more popular though it is times on prices compared to the traditional ceramic art basins, glass basins or stone basins.
Besides what stated above there are more color options for designers to choose for their project designs. It has better durance on anti-scratches and it is not so easy to be broken during the long-way delivery. And it is easy to be recycled compared to ceramic or glass, so it is environmentally friendly product.
Here attached some pictures of stainless steel wash basins for you to know more about Kobia metal bathroom sinks and wish you could have such kind of basins for your projects or own house.