In the special period of epidemic prevention and control, where is the need for faucets, whether in the kitchen or the bathroom, faucets have a pivotal position. For example, before and after meals, the cleaning of food and utensils can not be separated from the help of Pull out kitchen mixer faucets and sinks.
The sink is wet and often accumulates garbage. Failure to clean it in time can easily lead to the growth of bacteria and viruses. If the area of the sink in the home is large and the fixed kitchen faucet is used, it will be difficult to open it when cleaning, and the corners and wall surfaces that are not cleaned will be prone to stains. The pull out kitchen mixer faucet has successfully attracted my attention. Not only can I control the water with one key, improve the kitchen work efficiency, but also stretch at will, expand the cleaning range, and enjoy more free operating space.
The pull out kitchen mixer faucet lies in its excellent pull-out function and innovative design concept.
The tap of the faucet can be pulled out or retracted smoothly by a magnetic suction device to expand the free movement space beside the sink. the hose can be pulled out up to 35cm, sending water to wherever you want. The water outlet method can be freely changed according to your needs. In addition to using a traditional handle to control the water flow switch, you can also flexibly control the water with one-touch. Even the elbow, the back of the hand, or the arm can easily operate the faucet, freeing hands.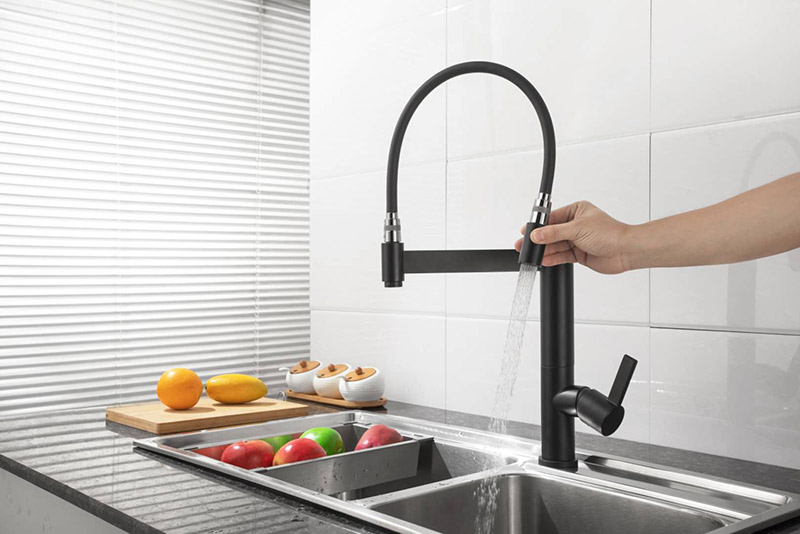 The innovative design of the tap's pumping and high-throwing rotary spouts fully reflects the exquisite comfort of space technology, giving the sink plenty of free-range space, maximum ease of operation and lower water splashing possibilities.