Swimming is the major excersie to improve cardiopulmonary,enhance the immunity,metabolism,promote fat consumption.Unfortunately,there is a risk of infectious diseases,when we are swimming in a public pool,drowming in an unclear swim pool is risky for the eyes,ears,and skin.As the water are serious polluted and been overuse of chlorin.Let's introduce how we customized a swim spa hot tub for customers based on healthy factors.
1.Kobia Swim Spa Hot Tub Use Usa Imported Aristech Acrylic 
THE POWER OF BIO-LOKTM MICROBE SHIELD
In addition to Aristech Acrylics' excellent gloss and color retention, our Bio-LokTM surfaces are naturally impervious to microbes, without the need of added chemicals. The non-porous nature of Aristech's Bio-Lok sheet defends against the penetration and growth of microorganisms on its surface. Bio-Lok swim spas are shielded against microbes, easy-to-clean, durable, and do not contain any anti-microbial chemicals, pesticides or similar additives.This is any surface finish of civil engineering pool could not be competitive.The KOBIA above ground pool hot tub combo is popular by the global customers,either the below recessed ground pool combo and above ground endless pool are with massage and swim sections: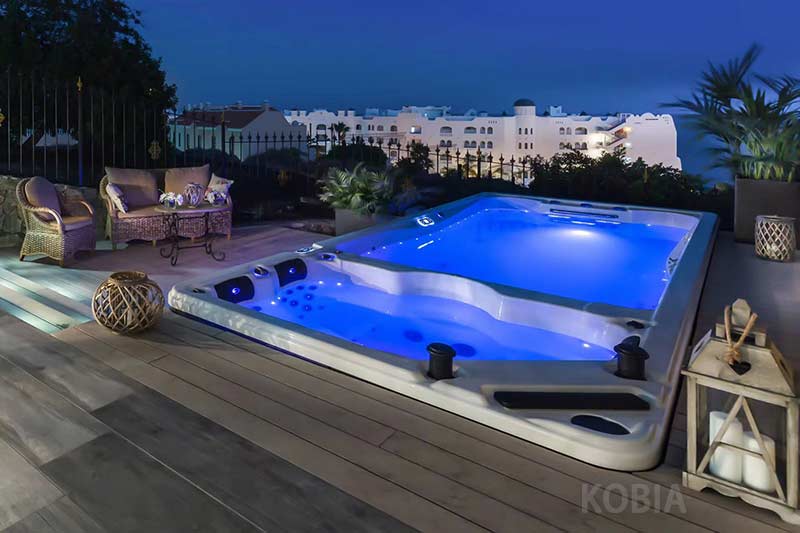 2. Swim Spa Hot Tub Safer&Hygiene
Not chlorine water treatment system

As a eco-friendly hot tub manufacturer,we use the enviromental material to keep the water clean and hygiene.
1).Physical filtration;
2). Biodegradation;
3). Bacteria inactivation;
4). Physical filtration, bacteria inactivation; and special control program for biological degradation.
Each processure of strict Extra-pure system treatment system,which could avoid the red eye disease,reduce the scratches of skin,decrease receding hairline etc problems.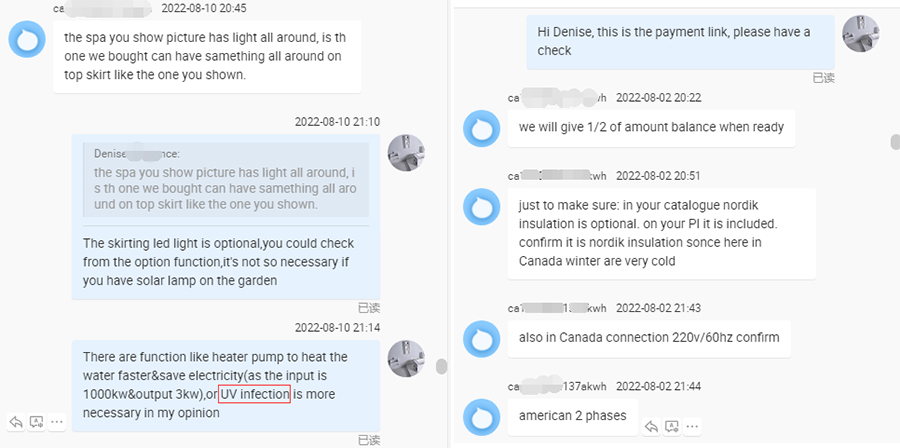 3. Above Ground Pool Hot Tub Combo Sicentific Therapy&Massage
Well organized massage jet for relaxing people's muscle and accelerating blood circulation. It would bring a joyful gathering for family members.Both excercising and relaxing can have at home,it's much safe and time-saving.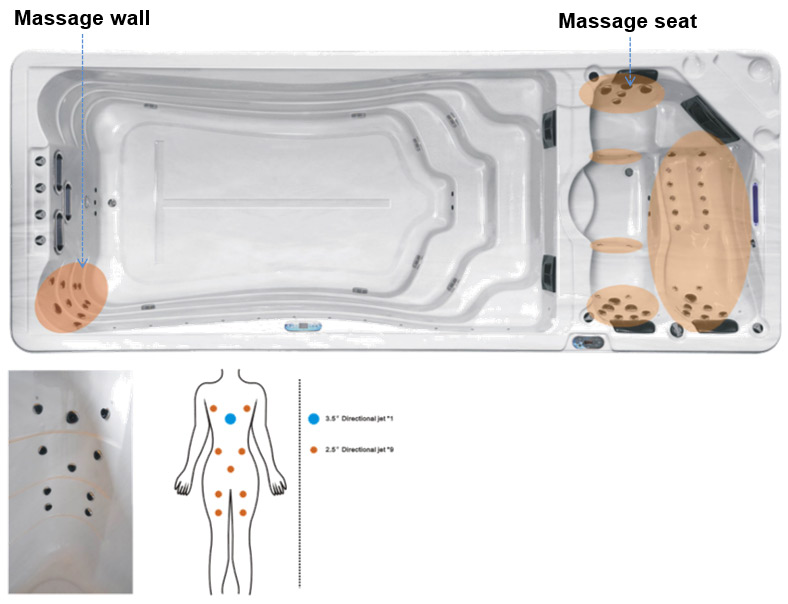 4. Above Ground Pool Hot Tub Combo Thermo Protection
We adopt the healthy material to keep the water warmer during the swimming in the winter,especial for winter of Canada.We have insulated layer for the PVC skirting,ABS base, and abt 20cm layer for the shell bottom,the Nordic insulation is about 45cm thickness.The thermo cover enhances the safety of the swim spa and prevents children from entering the swim spa alone with a pin lock.There are heater machines as extra heating option for chilly areas.More personal service of swim spa hot tub welcome to contact KOBIA Team.