In any busy bathroom, counter space is always prime real estate. Whether it's a shared family bath, or the master bathroom of a busy couple. Finding yourself dealing with a severe lack of counter space? Consider installing a wall mount bathroom sink faucet! Not only do they create a stylish and versatile look in your bathroom, but this style of faucet is functional as well. By mounting on the wall, you ultimately create more space in the bathroom. Read on to learn more about wall mount bathroom sink faucet , and see if this style is right for your home:
EASY TO INSTALL
Wall mount bathroom sink faucet install, like the name suggests, on the wall above the bathroom sink or vanity. The faucet connects to a waterline that is run behind the wall, rather than through and underneath a vanity.
KOBIA strongly recommends the use of a professional to install any wall mount bathroom sink faucets. They have the skill and know-how to safely and effectively run the waterlines behind the wall. They will also be able to install a discrete access point where you can get to the waterlines without knocking down the wall in the unlikely event of a leak.
SINGLE HANDLE WALL MOUNT BATHROOM FAUCETS
A single handle wall mount bathroom sink faucet features only one handle to control both the waterflow and water temperature. It's a great choice for a minimalist style. Let the sleek and simple faucet speak for itself: It makes a big enough statement being mounted on the wall.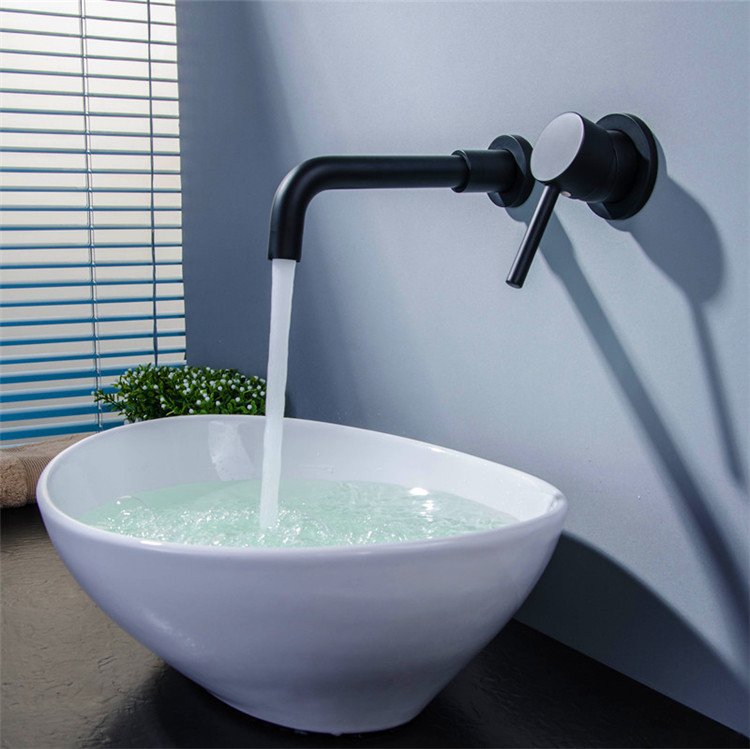 DUAL HANDLE WALL MOUNT BATHROOM FAUCETS
A dual handle wall mounted bathroom faucet, such as the KOBIA Wall Mount Bathroom Faucet, adds elegant balance to the bathroom. This model also features a bold, angular backplate. The backplate makes the faucet feel more like a work of art than a vital bathroom fixture!
IS A WALL MOUNT FAUCET RIGHT FOR YOU?
Above all, wall mount bathroom faucets are great for saving space in the bathroom. They also create an elegant look in the bathroom, perfect for modern minimalist decor or a décor that's more stylish and refined. If you're short on space in a small bathroom, a wall mount bathroom faucet is a functional solution that fits most styles.